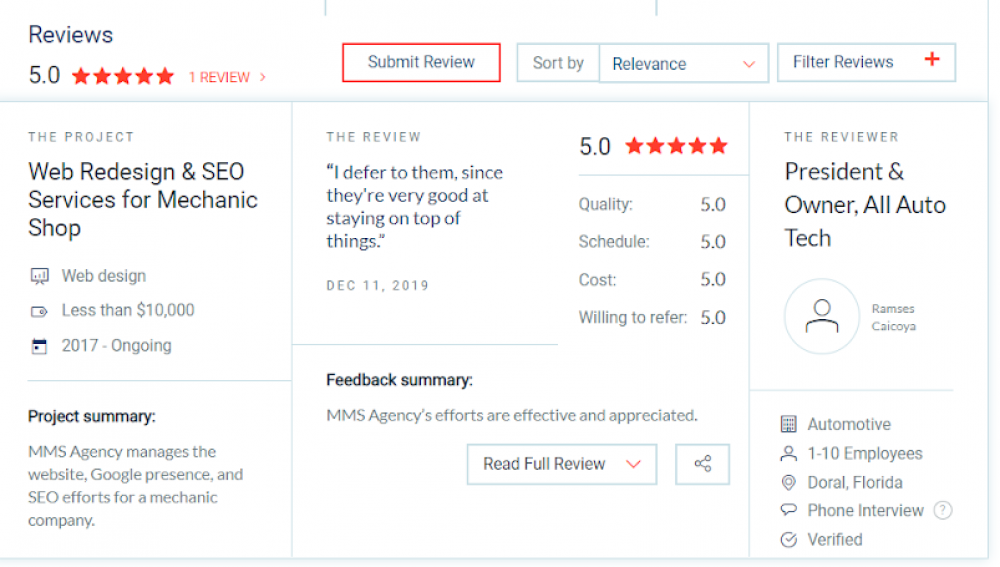 If you're looking for a trustworthy creative and design agency, look no further, MMS Agency is here for you! We know how vital it is to have a responsive and aesthetically pleasing design to make your business up and running fast.
With our expertise in critically evaluating site quality and capability to create and maintain web pages, we expand your brand's awareness and appreciation. In the process, we also increase your conversion rates. After all, our main objective is to deliver the perfect product for our customers!
In light of our impressive work, we have been listed by Clutch as one of the best service providers in Florida!
Clutch is a ratings and reviews site based in Washington, DC. They independently conduct research and gather objective feedback from clients of companies registered on their platform to efficiently rank B2B firms. Clutch classifies companies by their locations and fields of expertise, steering buyers through the decision-making process.
Without our loyal clients, this wouldn't be possible! Here's a review of our successful web redesign and SEO services project to a mechanic shop:
"We are honored to receive this award and be recognized for our wonderful work in Creative & Design. This is a spectacular opportunity to endorse the work that we have been doing since 2016. We appreciate our customers continued support and hope that they will continue to partner with us!" - CEO, MMS Agency
We're thankful to Clutch for our award and we can't wait to start collaborating with new clients! Don't hesitate to drop us a line to begin your project today!
Comments
Search
Topics
Recent Posts